Oanda Review
OANDA Review
Established in 1996, OANDA is considered a pioneer of online forex brokers. Through its proprietary fxTrade platform, OANDA offers forex trading and CFD trading to customers across the globe.
In addition to its powerful trading platform and useful resources, OANDA offers clients a wide range of unique features that make it an ideal forex broker for both novice and experienced traders.
This extensive review of OANDA will explain everything from commissions and fees to platforms and customer service to help you decide if this is the right online forex broker for you.
Regulation
It is incredibly important that traders choose a properly licensed and regulated forex broker. Fortunately for its customers, OANDA takes a cautious and proactive approach to regulation.
The countries in which OANDA is regulated include the following:
United States – Commodities Futures Trading Commission
United Kingdom – Financial Conduct Authority
Canada – Investment Industry Regulatory Organization
Singapore – Monetary Authority of Singapore
Japan – Financial Services Agency
Australia – Australian Securities and Investment Commission
Through its entities in these six jurisdictions, OANDA is able to work with customers in over 196 countries.
Regions Available
Oanda is an available broker in the Forest Park FX cash back rebate program to traders in Latin America, Europe, Canada Middle East, APAC, and United States regions, subject to certain country-specific restrictions.  At this time residents in Japan and Singapore cannot take part in the Forest Park FX cash back rebate program at Oanda.
Minimum Deposit
OANDA is a great choice for new traders and traders with limited capital as it does not have a minimum initial deposit. Additionally, OANDA permits trades of any size through their fxTrade platform without any minimum lot size requirements.
Commissions & Fees
OANDA bid/ask spreads are comparable to other big forex firms like Forex.com and FXCM. OANDA uses a proprietary pricing engine that monitors interbank pricing in order to ensure that it can continue to offer traders competitive prices.
Like most other forex trading brokers, OANDA has a pricing model that does not require users to pay a commission. Instead, on their Standard Pricing model, traders pay a spread based on real-time market values. However, while commissions are not required, traders can opt to use OANDA's Core Pricing model, which consists of a core spread plus commission in order for clients to experience lower spreads.[1]

Execution
OANDA's execution method allows it to deal at quoted prices without relying on a third-party. OANDA guarantees that there are never any re-quotes or rejections and they fill all trades up to 100 standard lots per click (10 million in notional size).
Oanda further states on its website that its proprietary v20 execution engine allows it to execute trades in one millisecond. As such, OANDA's unique execution method may help traders achieve faster execution than with other brokers.
Leverage
OANDA offers leverage to customers looking to trade on a margin. The company determines maximum leverage based on regulators in your geographic region. As leverage can drastically increase risk, many traders choose to implement stop-loss orders in order to limit potential losses.
OANDA is very transparent about the average historical and current spreads. They have a tool available on their website that was specifically built to show historical spreads per currency pair. Oanda also warns traders that spreads are likely to widen during times of high volatility.
Types of Accounts
OANDA offers one standard live trading account that enables traders to access and trade over 70 different currency pairs and, for non-US resident clients, a suite of CFDs.
Users might also be drawn to the demo account offered by OANDA. While most forex brokers offer demo accounts for a limited time, the fxTrade demo account offered by Oanda is available for as long as you need. Demo accounts give traders access to almost all of the tools offered with a standard account, making it easy for new traders to develop their strategy and build their confidence.
Trading Platforms
OANDA offers two basic trading platforms: The fxTrade platform and the MetaTrader 4 (MT4) trading platform. Both platforms offer powerful charting capabilities, automated trading, and other beneficial capabilities.
fxTrade
OANDA's fxTrade platform, which is available online, on mobile devices, and through desktop apps for Mac, Windows, and Linux, offers traders various tools and analytics.
This platform allows you to make trades directly from the chart. The software also gives users access to charts from TradingView and other useful information such as economic analysis, news feeds, watch lists, MarketPulse news, Autochartist and more.
The Advanced Charting module in this platform is quite powerful and gives traders the ability to perform useful tasks such as overlaying currency pairs for comparison purposes. Additionally, this feature provides over 100 drawing tools and more than 50 indicators.
Experienced traders can take advantage of fxTrade's API libraries to help them perform a variety of tasks, including placing trade requests, place stop-loss, take-profit, and entry orders, access past trading transactions, access market data, and much more.
Overall, fxTrade is an incredibly useful platform for both novice and experienced traders. Due to the availability of fxTrade on numerous platforms, extremely powerful charting, and other factors, fxTrade performs well when compared with platforms used by other top brokers.
MT4
MT4, or MetaTrader 4, can be used in place of fxTrade if the latter isn't able to satisfy your needs or suit your eye. MetaTrader 4 is the industry standard platform that provides advanced charting capabilities, watch lists, trade automation, and other features.
Other Platforms
In addition to fxTrade and MT4, OANDA offers a few other beneficial tools such as MotiveWave, OANDA Market Reports, and TradingView.
MotiveWave is a professional charting and analysis platform that includes over 250 indicators and 30 strategies. MotiveWave is an extremely easy tool to use and is very effective, making it a valuable tool to have at your disposal.
OANDA Market Reports are powered by Autochartist and provide market analysis. These reports offer a technical outlook of forex markets for a 48-hour period.
TradingView is an advanced charting and execution platform that provides all the tools that you might need to view and share trading ideas. It is an incredibly easy platform to use, making it ideal for both beginners and advanced chartists. TradingView uses real-time data and browser-based charts to help users discover trading ideas and communicate with other users.
Other platforms, like CQG, are available to OANDA customers.
Mobile Options
One of the greatest benefits offered by OANDA is the mobile trading options that it offers. Being able to enter and exit positions quickly throughout the day from your mobile device can be extremely valuable. Trading can be a very volatile practice, particularly for day traders. As such, a few minutes can make the difference between maximizing your profits and experiencing significant losses. OANDA's mobile trading options allow customers to respond quickly when target price points are reached so that they don't miss out on potential gains. Traders will be impressed by the capabilities of fxTrade on iOS and Android.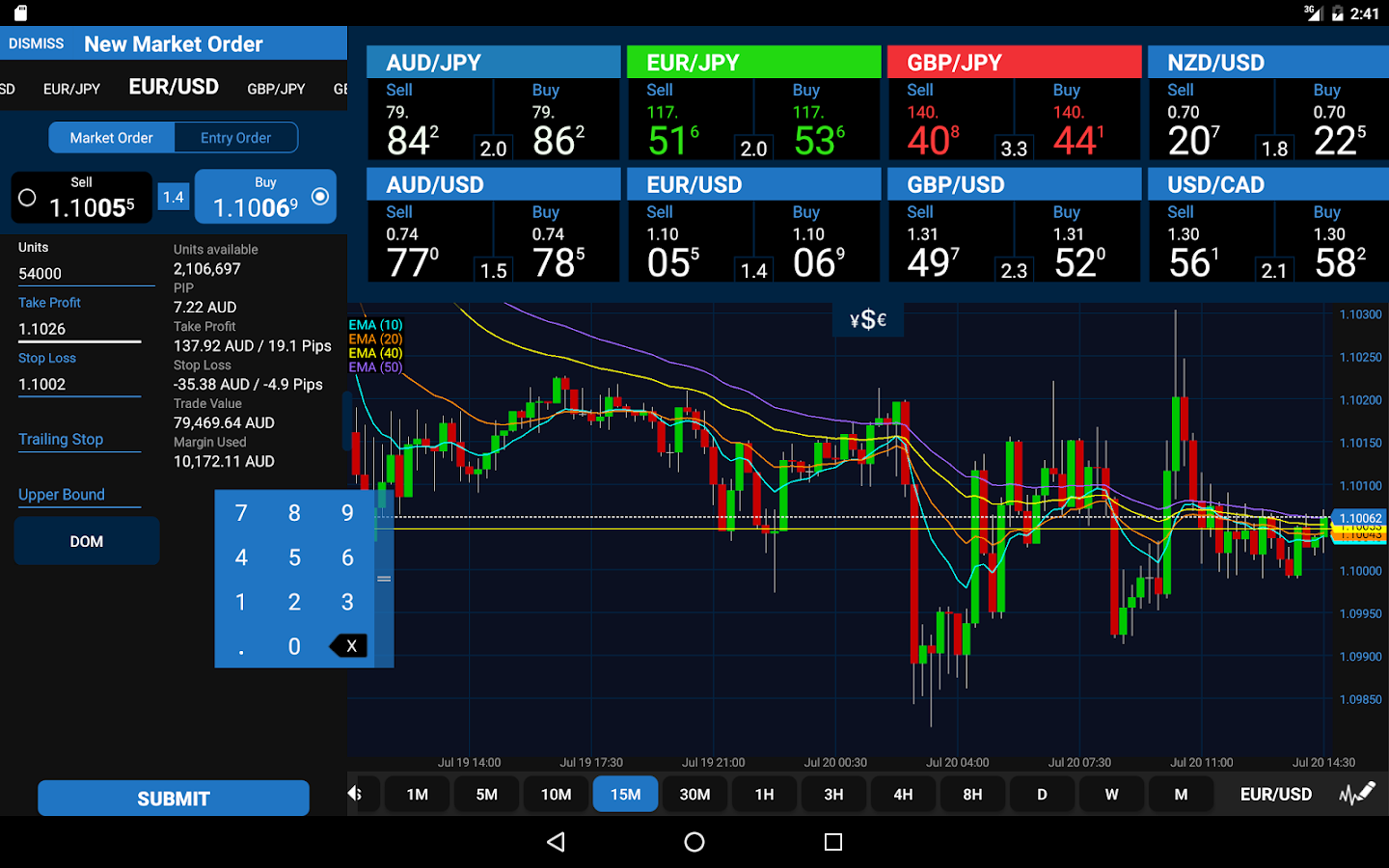 The mobile fxTrade platform is extremely easy to use and very user-friendly. Traders can use a myriad features, such as:
Trading directly from charts
Downloading historical data and quotes
Price overlays and indicators
Customizable display
News updates
OANDA's mobile offerings provide traders with an easy-to-use, hassle-free experience with powerful capabilities.
Deposit Methods
Traders tend to favor easy and straightforward deposit methods. Fortunately, OANDA allows FX traders to make hassle-free deposits or withdrawals using any of the following methods:
Debit cards
ACH transfers
Bank transfers
Physical checks
For customers outside of the United States, OANDA offers other payment methods depending on location, including PayPal, as well as alternative methods for Chinese clients such as BPay and UnionPay.
While the deposit and withdrawal processes are fairly simple, OANDA customer service can help you with any problems that you have when making deposits or withdrawals.
Customers are allowed one free card withdrawal per month. After this, customers might be subjected to certain withdrawal fees. For instance, customers who opt to withdraw funds via bank transfer may have to pay fees of up to $20 to $35. Of course, these fees are fairly standard and comparable to fees imposed by other major brokers.
Countries Not Accepted by OANDA
As noted, OANDA serves customers in over 196 countries. This includes Australia, Canada, United Kingdom, Hong Kong, Qatar, Singapore, South Africa, Thailand, Norway, Sweden, Germany, Italy, Denmark, Kuwait, Luxembourg, and most other countries throughout the world.
However, some notable exceptions include India, South Korea, Turkey, and New Zealand.
Unique Features
OANDA offers a wide selection of unique features that help set it apart from its competitors.
Users can access webinars that cover a wide range of topics. From introductory online courses to teaching traders how to understand advanced trading patterns and charts, these webinars can be a great resource for new and experienced traders. OANDA also provides interviews with experienced traders to help novice traders understand the strategies used by those more successful than them.
On top of these features, users can view historical average exchange rates, easily open long and short positions, open up to 19 sub-accounts, access news from reliable sources like 4Cast and MarketPulse, and use margin and leverage calculators to help determine potential profit and loss.
With so many resources available, traders can rely on OANDA to fulfill all of their needs.
Customer Service
Traders know just how valuable time can be. That's why it's important for their broker's customer service to be quick and reliable. As such, OANDA offers multilingual customer service 24/7.
Customers can contact support by e-mail at any time of day while live chat and phone support are available during trading hours (times may be affected by holiday trading hours). OANDA offers support in English, German, French, Spanish, Italian, Russian, and Portuguese.
Regardless of the time and where you are located, you can count on OANDA customer service to be prompt and helpful.
Security
Safety and security of activity and personal data is a major concern when choosing a forex broker. OANDA ensures that its customers are secure as they use modern and sophisticated encryption technology to protect sensitive information. Customers have minimal reason to be concerned regarding the safety of their personal financial information.
Final Thoughts
OANDA remains a leading forex broker across the world for a variety of reasons. The company's strong regulatory track record grants clients a strong sense of security. Additionally, OANDA's powerful and versatile trading platforms grant users the ability to easily make transactions, keep up with news, and perform market analysis no matter what device they choose to use.
Moreover, due to a plethora of resources, powerful charting tools, access to reliable news sources, over 70 currency pairs, and no minimum trade size or initial deposit, OANDA is an ideal service for traders of any experience level.
[1] With Oanda's Core Pricing offering, clients can opt to trade on a Core Price – which is essentially a lower spread – and a commission per trade.  The total costs of trading on Core Pricing are essentially the same as the standard pricing model.