ThinkMarkets Review
ThinkMarkets Review
ThinkMarkets, formerly known as ThinkForex, is a forex and CFD broker that was established in 2010. ThinkMarkets offers both retail and institutional clients the ability to trade in a variety of financial instruments, including currency pairs, precious metals, cryptocurrencies, and commodities.
ThinkMarkets offers clients the option to choose between several types of accounts as well as trading platforms. Moreover, customers who choose ThinkMarkets will have access to a vast library of educational resources and fantastic trading tools, like Autochartist and FX Wire Pro. These features, combined with tight spreads and low commission rates make ThinkMarkets a great option for both inexperienced and advanced traders.
Regulation
Headquartered in Australia, ThinkMarkets is a registered business name under TF Global Markets Pty and is regulated by the Australia Securities and Investment Commission (ASIC).
Additionally, after setting up an office in London, ThinkMarkets obtained regulation from the Financial Conduct Authority (FCA) in the United Kingdom. ThinkMarkets also has a regulated office in Bermuda and South Africa (FSCA).
REGIONS AVAILABLE
ThinkMarkets is an available broker in the Forest Park FX cash back rebate program to traders in Latin America, Europe, Middle East, and APAC regions, subject to certain country-specific restrictions.  Due to regulations it is not currently available to United States or Canadian residents.
Minimum Deposit
ThinkMarkets requires a minimum deposit of $250 to open a live trading account. This minimum deposit is fairly standard and is low enough to still be favorable for low-volume and inexperienced traders.
Types of Accounts
ThinkMarkets offers several different types of accounts to accommodate the varying needs of its customers.
Standard Account
ThinkMarkets' Standard Account requires a minimum deposit of $250 and is completely commission free. Standard Account holders are offered Forex spreads from as low as 0.4pips.
Additionally, ThinkMarkets offers customers with Standard Account access to live support 24 hours, six days per week as well as access to daily market insights.
ThinkZero Account
ThinkZero Accounts at ThinkMarkets require a minimum deposit of $2,000 and have a commission of 3.5 units per side — for all FX pairs and gold. According to ThinkMarkets, ThinkZero Account holders can expect Forex spreads from as low as 0.1 pips and CFD spreads from as low as 0.9 points.
ThinkZero Account holders have access to the same tools and platforms as Standard Account holders and some additional benefits, which include:
Access to Autochartist
Free VPS Service
Access to an Account Manager
Like Standard Accounts, the maximum leverage for ThinkZero Accounts is 400:1. Additionally, ThinkZero and Standard Accounts share a minimum contract size of 0.01.
Joint Account
Lastly, ThinkMarkets offers joint accounts. These accounts, of course, are meant to be shared by two or more individuals.
If you are interested in setting up either a joint or Islamic account, you can do so through Forest Park FX.
Commissions & Fees
ThinkMarkets offers very competitive commissions and fees when compared to other major brokers like Pepperstone, IC Markets and AxiTrader.
As mentioned above, Standard Accounts are not charged any commission, and traders can expect competitive spreads, starting as low as 0.4 pips.
ThinkZero Account holders are required to pay a commission of 3.5 units per side. This is an extremely low  commission that is accompanied by even more competitive spreads, which start as low as 0.1 pips for ThinkZero Account holders.
Trading Platforms
ThinkMarkets offers two incredibly powerful trading platforms, including its own platform, ThinkTrader, alongside the popular MetaTrader 4 (MT4) trading platform.
ThinkTrader
ThinkTrader, ThinkMarkets' proprietary trading platform, offers a very user-friendly interface while still managing to pack a number of powerful tools and components.
Users can trade directly from charts and have access to over 80 indicators, 50 drawing tools, and 14 types of charts. Moreover, users are able to receive 200 cloud-based notifications on any device to help them manage their positions and keep up with market news. These cloud-based notifications can be personalized according to your preferences and to alert you when certain market conditions are met. For example: Traders can receive a notification when the price on EUR/USD crosses a certain threshold. Other notifications that can be personalized include: Price triggers, order execution, and technical indicator triggers, such as crossovers, thresholds, oscillators, and more.
When you open up the platform, you'll see charting, open positions and instrument list panels. In the instrument list panel, you can access a number of useful tools, such as an economic calendar, news headlines and trade signals.
ThinkMarkets' ThinkTrader also offers the TrendRisk Scanner tool, which allows traders to scan markets and spot high-probability trades.
Overall, ThinkMarkets' own ThinkTrader platform is a powerful and intuitive platform that is sure to offer a pleasant experience to traders of any level.
MetaTrader 4
As should be expected from any forex trading broker, ThinkMarkets also offers access to MetaTrader 4 — what many would consider to be the industry standard forex trading platform. MT4 offers an extremely advanced charting package with integrated access to Autochartist and over 100 indicators.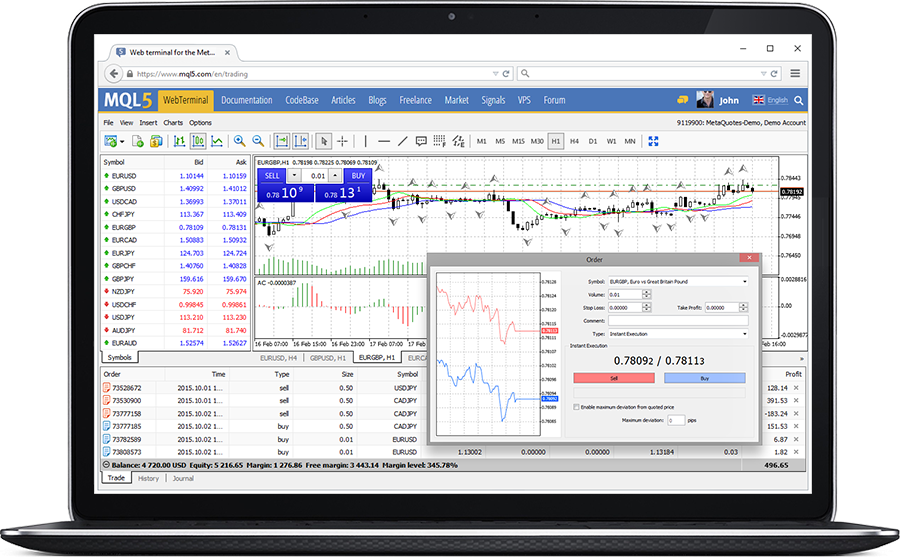 Autochartist is an incredibly powerful pattern recognition tool which helps users monitor multiple markets and instruments. This tool alerts traders when new opportunities appear, streamlines risk evaluation, and is highly customizable.
MT4 also grants users access to real-time news via FX Wire Pro. FX Wire Pro employs thousands of journalists who provide in-depth economic commentary to help you stay on top of important trends.
ThinkMarkets customers who use MT4 also have access to Virtual Private Servers (VPSs). This allows traders to access and manage their automated trading strategies easily and efficiently. Traders have 24-hour access and can use Expert Advisors to optimize their trading experience.
By offering both Trade Interceptor and MetaTrader 4, ThinkMarkets is able to provide traders with an array of tools that they might need to be successful. Both platforms are incredibly intuitive and offer a variety of tools and resources. Customers can't go wrong when choosing between these platforms.
ThinkInvest
ThinkInvest is ThinkMarket's Money Manager partnership program. It provides profitable traders with the opportunity to be compensated for their expertise.
According to ThinkMarkets, ThinkInvest allows experienced traders to join the ThinkInvest platform where other traders can view their performance and choose them to manage their money. ThinkInvest ranks Money Managers based on their performance and displays their results on a leaderboard.
Traders who join this program can implement their own conditions, such as how much they charge for their services and how much minimum capital they require.
ThinkInvest allows experienced traders to profit off of their advanced knowledge and allows novice traders to confidently hand over their portfolios to those who are more capable than them.
Mobile Trading
It is very important that brokers offer satisfactory mobile trading options. As traders go about their day, they are not always able to access a computer, and just a few seconds can make a huge difference in the world of trading. Fortunately, ThinkMarkets offers a few very reliable mobile trading options for its customers.
Trade Interceptor is available on both iOS and Android. Trade Interceptor is one of the best mobile trading platforms on the market as it is one of the few mobile platforms that matches the capabilities of its desktop and web-based counterparts. Mobile traders have access to 11 chart types, more than 80 technical indicators, in-app deposits, news updates, and quad-screen views.
Additionally, you can connect your devices in order to receive cloud-based notifications to ensure that you never miss a trading opportunity. The intuitive interface combined with its powerful features makes the ThinkTrader mobile app one of the best mobile trading platforms available.
Fortunately for users who prefer MT4, the MetaTrader 4 mobile app is also incredibly powerful.
MT4 mobile users can easily manage positions, review balances, receive live news updates, and more.
With a plethora of technical indicators, lightning-fast execution speeds, and access to other powerful resources, MetaTrader 4 is an ideal mobile trading platform for both novice and experienced traders.
Deposits & Withdrawals
For the benefit of its customers, ThinkMarkets accepts several methods of making deposits and withdrawals, including:
Debit/Credit Cards
Bank Transfers
PayPal
Skrill
As no one enjoys waiting for their money, traders should be pleased to know that ThinkMarkets processes withdrawals very quickly, with usual processing times being within 24 hours.
Customer Service
ThinkMarkets offers incredible 24/7 customer support. ThinkMarkets customer service can be contacted through phone, e-mail and live-chat.
Moreover, ThinkMarkets offers multilingual support in order to satisfy the needs of its increasingly diverse clientele.
Overall, ThinkMarkets customers can expect to receive reliable, accurate and timely support whenever they need it.
Additional Resources
One of the greatest additional benefits offered by ThinkMarkets is its 'Learn to Trade' educational resource. This feature offers trading lessons for beginner, intermediate and advanced traders.
The beginner section includes lessons such as 'How to Start Trading the Markets' and 'MT4 Basics.' Intermediate traders are offered courses such as 'Risk Management,' 'Chart Patterns,' and 'Order Types.' Lastly, Advanced traders can access lessons such as 'Technical Analysis,' Fibonacci Ratios,' and 'Timezones & Liquidity.'
ThinkMarkets' extensive educational resources provide traders of any level with the opportunity to develop more effective trading strategies.
Final Thoughts
ThinkMarkets is a great option for both novice and experienced traders in search of a forex broker.
ThinkMarkets offers incredibly competitive spreads and commission rates. In addition, the broker's incredibly fast and reliable execution ensures that traders can count on the quoted spreads to be accurate.
ThinkTrader and MetaTrader 4 offer traders two of the most powerful trading platforms available on both desktops and mobile devices. With incredibly powerful charting capabilities, access to a plethora of technical indicators, and access to news updates and market analysis, both MT4 and Trade Interceptor are fantastic platforms for beginners and more knowledgeable traders.
Lastly, ThinkMarkets extensive educational resources offer traders of any experience level the ability to expand their knowledge and develop their trading strategies.
All things considered, ThinkMarkets is an ideal option for anyone looking for reliable and regulated major forex brokers.